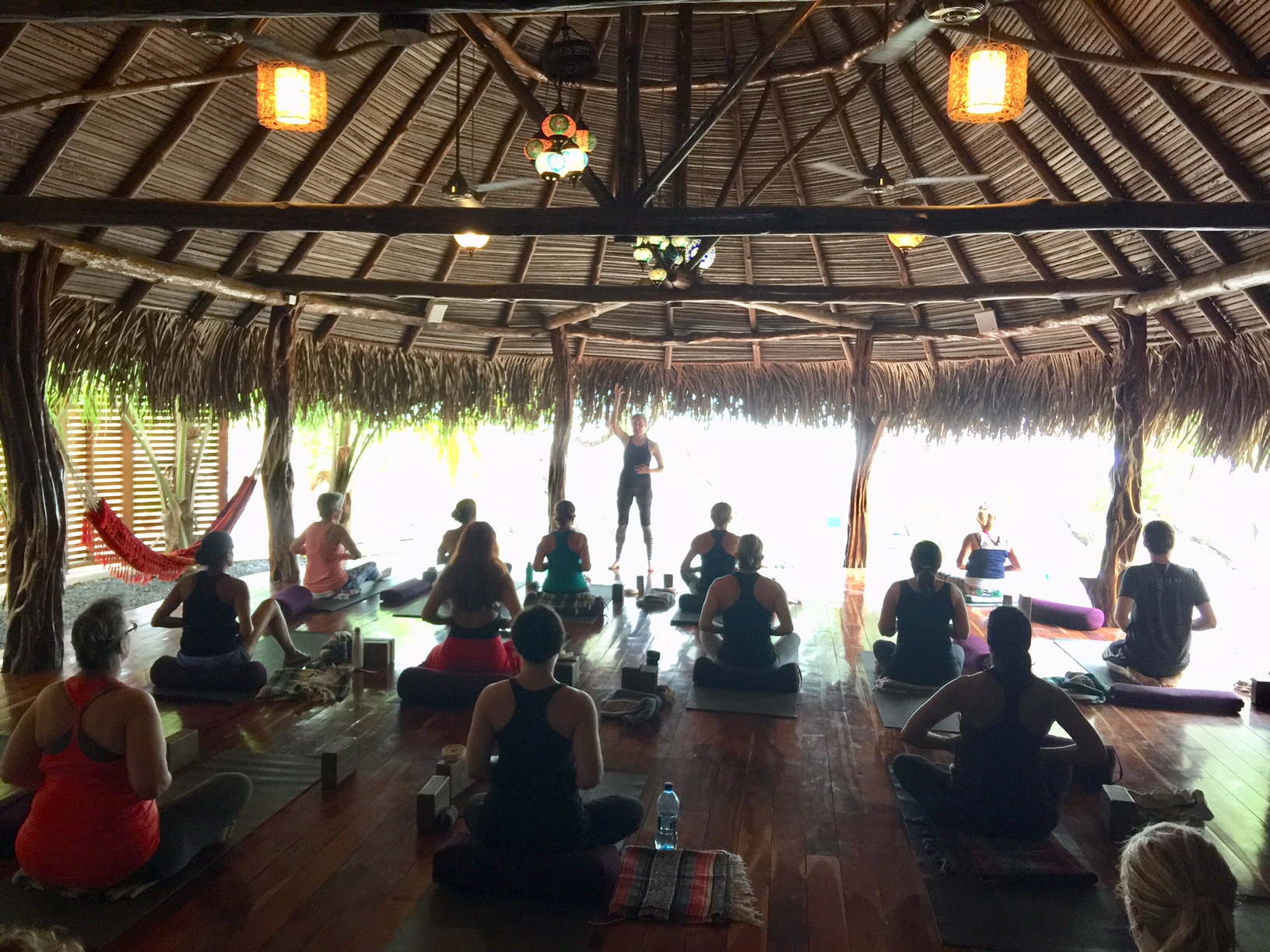 30 Jul

KennyAsana

I'm finally done unpacking my bags after leading a yoga retreat at the beautiful Sansara Surf and Yoga Resort in Panama and have so much I want to share.

Anytime one travels there is an opportunity for growth and transformation, to get out of a comfort zone and learn from the people and the culture of the region you are blessed to visit. My hope is that the yogis who attend my retreats take a journey that not only brings new travel adventures, but also deepens their yoga practice, and allows time to journey inward to learn more about themselves. The cool thing is that I get to learn right along with them.

The week in Panama taught me so much, but I have to say that the most important things I learned in Panama came from Kenny, one of the surf instructors at Sansara. On the last night of the retreat, I shared a list of 6 things I learned from Kenny with the retreat yogis, and I'd like to share them with you as well!
Everything you need to take away from this week in Panama I learned from Kenny.
1. Honk, Smile, Wave, and Shine Your Light
I'm prone to motion sickness, so whenever I go out on an excursion that involves riding in a car I call 'shotgun', so I get the front seat. On this retreat that meant I got to sit up-front with the driver Kenny. The front seat provides an eyewitness view of the local scenery and opportunity to see Kenny, who is a native of Cambutal in action. Along the way to surfing or a waterfall hike, he taps the horn at everyone he sees to say hello, his hand goes out the window to wave or to shout out an endearing call to the passerby, and he does all of this with a highly contagious smile. The first time I went out with him I just watched it all play out and marveled at how connected he was to his community. The second trip with him I decided to get in on the fun and started waving and smiling at everyone I saw too. When I did this, something magical happened. I saw the person light up, smile, and wave back at me. There was an exchange of energy, of light, and love. As soon as the person I waved at realized they didn't know me but still lit up their face with a smile, my heart and smile got brighter and bigger. It felt so good and it made me realize how closed off I can be at times when I'm back at home. I couldn't wait for the ride home, so I could get supercharged with the energy of sharing and receiving smiles. So, lesson #1 from Kenny – share your light with others! Walk through the day with a smile. You get what you give – so give smiles and love and that is what you will receive. Smiling and kindness are a super power we all possess, we just forget at times to harness our power, so be a yogi who is shining their light, love, and compassion in the world.
2) When you let go of FEAR and become FEARLESS it brings SWEET rewards!
When Kenny would drive us to surfing lessons or other adventure excursions he was extremely present. That is one of the things they taught us about surfing, keep your eyes open and watch what is happening around you. Kenny's eyes were always on the road to keep us safe, but also to have a lookout for monkeys, sloths, and mangoes. When he spotted any of these he pulled over, so we could get a closer look.
One day on the way home from surfing he spotted a mango tree that was bursting with fresh mango fruit and pulled over. After further surveying the tree, Kenny realized the ripest mangoes were at the top of this gigantic tree, but that didn't stop him. Fear pushed aside, Kenny began to climb the tree like Spiderman. Once he reached the top he started throwing down fresh, ripe mangoes to us.
After that first throw in the video above, we didn't miss catching any more of those tasty mangoes. They were absolutely the best and sweetest mangoes I've ever eaten. As I enjoyed my tropical treat it made me think about the fact that if you really want something, and can let go of the fear of climbing up a tree, or onto a surfboard (or mountain, or any obstacle), the fruits of fearless action in order to fulfill a dream can bring sweet rewards.
3) Practice Seva – Selfless Service
One day on the way to surfing Kenny and I both reacted alarmingly when another car approaching us was driving down the wrong side of the road. Thankfully the car got out of our way and as we turned the corner we realized it had swerved off center because there was a fallen tree tangled in a utility wire that was blocking the road. The tree had fallen in a way that a car could still drive under it on one side of the road. As we slowly approached the tree I thought Kenny was slowing down to drive under it, but instead, he pulled over and jumped out of the car and went into action. He waved down the truck with the rest of our group to stop, pulled out warning flares to place in the road on both sides to alert those driving down the street that there was an upcoming obstacle, cleared away what he could, and contacted the authorities to get the road cleared.
Kenny could have kept driving. He did have an obligation to get all of us to the beach for our surf lesson, but instead, he chose to do the right thing, to be of service to others.
It made me really think about where in my life are my eyes closed? Am I driving right by a problem and not offering any help or assistance? How can I be more of service? In my studies of the Yoga Sutras of Patanjali it says time and time again that we are here to give and give and give. When we are of service to others without any expectation of reward for this service, that is when we are the happiest.
Beach Clean Up Day – Seva Project in Cambutal
"Forget your selfishness, make others happy, and you will be the happiest person." By seeing others happy, you can't be unhappy. But by making everybody unhappy, you can never be happy yourself. So, at least for your happiness, bring happiness to others." – Sri Swami Satchidanada from The Yoga Sutras of Patanjali
4) If you want to learn to surf you have to be able to let go of control, let go of your ego, be OK with failure, slow down, and be Present!
Ummm does that sound just a little bit familiar? Sounds like the teachings of yoga to me.
The surf instruction at Sansara is stellar! Each one of the instructors was extremely friendly and knowledgeable. Stay tuned, I'm going to write a whole separate blog post about this experience!
5) Add more PLAY into your DAY!
One of the yogis on my retreat who took surf lessons every day told me this story about the best lesson she learned about surfing. One morning she was having trouble staying balanced after standing up on her board. Each of the instructors that day gave her a tip that helped her, but the one piece of advice that finally did the trick came from Kenny. His advice – make it fun, put more play into what you are doing! As soon as she did this she was riding the waves!
When is the last time you played? We are part of a stressed out, overworked society, so how could we possibly have a routine infused with fun? Do you feel there is simply no time for that? Change your story, let go of the struggle, and focus on making the task at hand more fun!
6) Corazón Grande (Big Heart)!
On one of the surfing trips, Kenny told one of the retreat yogis about his Father and went into detail about how he had a Corazón Grande, which translates to a big heart.
I hope that Kenny knows that his heart is just as grand.
Kenny was a great reminder that we should walk around in this word with a big heart, sharing kindness and compassion with all who we meet. That is what it means to live like a yogi – doing everything with your heart, from a place of love.
It was an epic week in Panama in so many ways – being in a remote part of the world enjoying the beauty of the jungle meeting the beach, the opportunity to set new intentions with the New Moon, experiencing the magical sights and sound of the ocean while practicing yoga, learning to surf, remembering how great it feels to disconnect from technology and reconnect with nature and myself, and the even sweeter connections made between all the yogis on the retreat, eating delicious, healthy food, offering sunrise salutations on the beach, getting yogis excited about chanting and meditating, seeing my very first sloth, and the team at Sansara who all have hearts just as big as Kenny's. I could go on, but I'll save that for another post. I want you to know that I left Panama with an expanded heart, ready to share my Corazone Grande with all beings.
I'm going back to Sansara next April 14-20, 2019. Click here for all the details for Paradise in Panama!
Read More