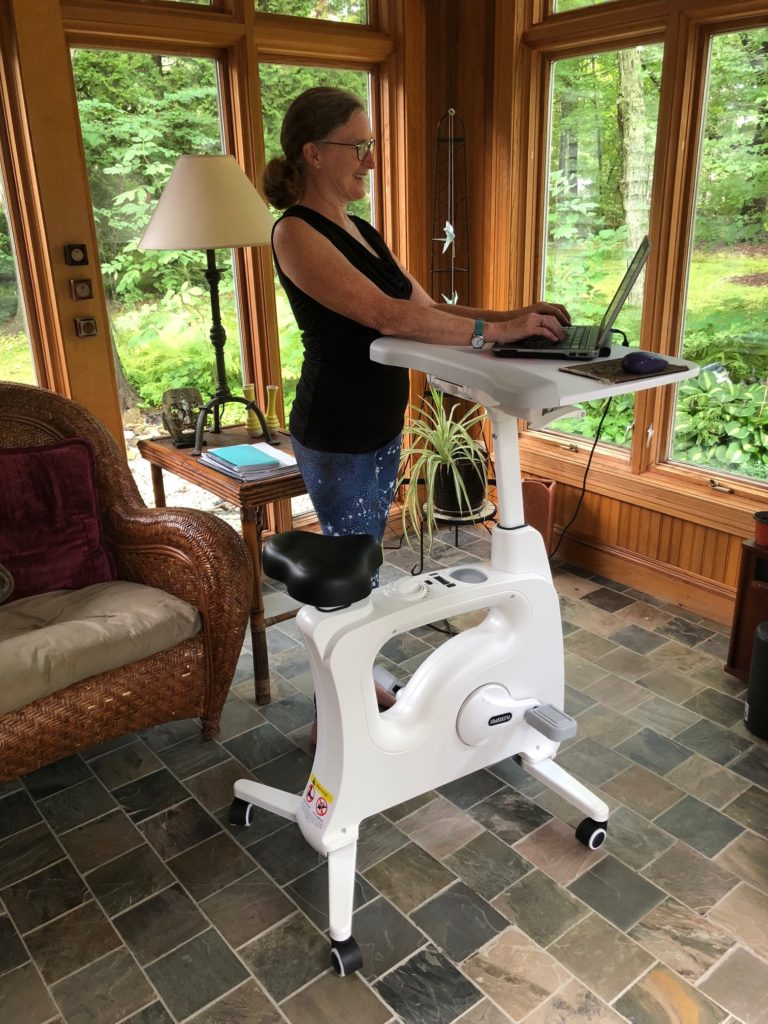 30 Jul

Workout While You Work!

As much as our society loves to multi-task, I really have never been a big fan. It's hard for me to do two things at once, and as a yogi, I do try to practice giving my full attention to one central point of focus. That being said, when the awesome folks at Flexispot asked me to try out their Deskcise Pro – a desk and stationary bike combined into one, I couldn't resist the thought of multi-tasking while I sit at my desk and work.

Now while I'm working on my computer, catching up on reading, or talking on the phone, I can also get a little cardio work out for my heart, increase strength and flexibility in my legs, improve my posture and coordination, strengthen my bones, burn some calories, and an added bonus I hadn't counted on – riding the bike helps me let go of stress. Now that is multitasking I not only can handle but love!

Yes, my yoga practice brings many of the same benefits, but the added cardio workout on my Deskcise Pro is a nice compliment to the yoga and meditation I do. It is the yang to my yin. When I'm riding the bike it is really quiet, so I'm able to focus on my work and forget about peddling and also to stop worrying that I'm not getting enough exercise.

I have to tell you two more super cool things about the Deskcise Pro, I use it also to hold my laptop up higher so I can stand and work which is really good to do throughout the day, and I've also figured out I can sit cross-legged on it and meditate. So while I'm working I go from sitting, cycling, standing, and sometimes meditating. My back is very happy!
For those of you that like a challenging ride there is a resistance control knob to control the intensity and an LCD display that lets you know how long you've been cycling, the distance, and calories burned.
When my bike arrived, my husband assembled it for me in less than an hour and said it was super easy to assemble. The workspace table moves up and down and forward and back, and the seat is also adjustable. If you don't have a lot of space, it is easy to store the bike because the legs fold in, and the desktop can be removed for easy storage.
Meditating at my desk!
Living in Ohio and not being able to get outside on my bike is a drag in the winter months, but I'm looking forward to cycling lots of miles this winter while I'm working.
If you would like to purchase a Deskcise Pro – click here for an offer code to save $15 Off
Happy New Year and Happy Cycling!
p.s. My awesome Galaxy Yoga Leggings are high waisted, super comfortable and from Onzie! Go check out their fun designs!
As much as our society loves to multi-task, I really have never been a big fan. It's hard for me to do two things at once, and as a yogi, I do try to practice giving my full attention to one central point of focus. That being said, when the awesome folks at Flexispot asked me
Read More