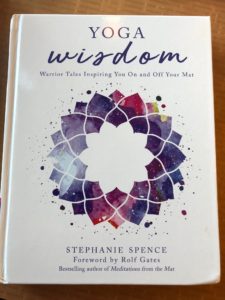 30 Jul

Yoga Wisdom: Warrior Tales Inspiring You On and Off Your Mat

Great title huh?! I wish I could claim it as mine, but it is the title of an awesome new book by my good friend Stephanie Spence also known as The Traveling Yogini. Stephanie and I met seven years ago through the burgeoning yoga blogging community and social media scene where we both actively supported each other. We initially started following each other on Twitter and realized we had a lot in common – we're both yoga teachers, writers, have a passion for travel, and are rocking out our 50s like its no one's business.

One day I posted that I was going to be traveling to Phoenix and needed recommendations on where to practice yoga. Stephanie hooked me up with excellent recommendations (thanks to her I took my very first wall yoga class!), and she asked me to meet her so she could interview me for a project she was working on called Tales of the Traveling Yogini. We met, talked, laughed, shared warrior stories, and have been friends ever since.
Stephanie went on a path of healing through her yoga practice and writing and also continued to interview hundreds of yogis. The result of her efforts came to fruition in this book.
When my copy of Yoga Wisdom: Warrior Tales Inspiring You on and Off the Mat, came in the mail I could not wait to dive in and I have to admit, I could not put it down. The book tells the story of how yoga helped Stephanie heal from a harrowing divorce that led to a separation from her daughters. Stephanie's story is painful, but so well written that I had to keep reading. This is the tale of a yogini warrior, one who would not be defeated by her circumstance, but who rose above it and is now sharing her story so she can be of service to others. She is living her yoga both on and off the mat.
As Stephanie tells her story she artfully weaves in the yoga wisdom stories of hundreds of yogis around the world. I'm not going to lie, I am geeking out a bit that I am one of the yogis featured in the book (page 113-115!!), along with many of my yogi role models, friends, and fellow yoga bloggers – Kia Miller, Anna Guest-Jelly, Elana Brower, Erica Rodefer Winters, Heather Sheree Titus, Hemalayaa Behl, Jill Miller, Kathryn Budig, Rolf Gates, Seane Corn, Sharon Gannon, and Tanya Markul to name a few.
There are also helpful tips all throughout the book for new and seasoned yoga practitioners – like the reasons why you should get to know your yoga teacher and how to take what you learn on your yoga mat and apply it to your life off the mat.
Kind of Cool to see your mug shot and story in a printed book!!
I plan to keep this book on my bedside table for a long time, so I can go back and pull inspiration from each of the Warrior Tales and also be reminded of the power of this practice to heal and transform. Just looking at the book cover will inspire me to get my own book written!
Congratulations Stephanie for all your hard work and determination to get this book published, I'm so proud of you! I also want to thank you, for sharing your story and for your dedication to empower women. I am blown away by your bravery and your truth, and I am praying that you will continue to be at peace and find joy. I'm ready to host you in Cleveland when you do your book tour!!
Click the image below to pick up your very own copy!

,
Great title huh?! I wish I could claim it as mine, but it is the title of an awesome new book by my good friend Stephanie Spence also known as The Traveling Yogini. Stephanie and I met seven years ago through the burgeoning yoga blogging community and social media scene where we both actively supported
Read More